For a complete breakdown of the translations, visit Gwaith-i-Phethdain's extensive work.
Color & Font Key
Item [language]
Elvish Line, click on it to hear the line being spoken by a voice actor.
'English Translation'
Phonetic Transcription /fə.ˈnɛ.tɪk ˌʧɹæn.ˈskɹɪp.ʃən/
Voice Actor(s)

Sting [Sindarin]
Maegnas aen estar nín - dagnir in yngyl im.
'Sting is my name, I am the spiders bane.'
/ˈmaɛg.nas ˈaɛn ˈɛs.tar ˈniˑn/ /ˈdag.nir in ˈyŋ.gyl ˈim/
Voice Actor: Cody Leatzow

Glamdring [Sindarin]
Turgon aran Gondolin tortha gar a matha
Glamdring
i vegil Glamdring gûd daelo, dam an Glamhoth
'Turgon, king of Gondolin, wields, has and holds the sword'
Glamdring
foe of Morgoth's realm, hammer to the Orcs.'
/ˈtur.gɔn ˈa.ran ˈgɔn.dɔ.lin ˈtɔr.θa ˈgar a ˈma.θa/
/ˈglam.driŋ/
/i ˈvɛ.gil̡ ˈglam.driŋ ˈgu:d ˈdaɛ.lɔ ˈdam aŋ ˈglam.hɔθ/
Voice Actor: Camden Jenkins

Aragorn's Hunting Knife [Sindarin]
'Foe of Morgoth's Realm'
/ˈgu:d ˈdaɛ.ðɛ.lɔθ/
Voice Actor: Cody Leatzow

Arwen's Sword, Hadhafang [Sindarin]
Aen estar Hadhafang i chathol hen,
thand arod dan i thang an i arwen.
'This blade is called Throng-cleaver,
a noble defence against the enemy throng for a lady.'
/ˈaɛn ˈɛs.tar ˈha.ða.faŋ i ˈxa.θɔl ˈhɛn/
/ˈθand ˈa.rɔd ˈdan i ˈθaŋ an i ˈar.wɛn/
Voice Actor: Spencer Reh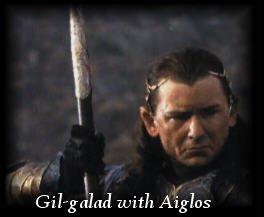 Gil-galad's Spear, Aiglos [Sindarin]
Gil-galad ech vae vaegannen matha,
Aith heleg nín i orch gostatha;
Nin cíniel na nguruthos
Hon ess nín istatha:
Aiglos
'Gil-galad wields a well-made spear,
The Orc will fear my point of ice;
When he sees me, in fear of death
he will know my name:
Aiglos'
/ˈgil̡.ga.lad ˈɛx ˈvaɛ vaɛ.ˈgan.nɛn ˈma.θa/
/ˈajθ ˈhɛ.lɛg ˈniˑn i ˈɔrx ˈgɔs.ta.θa/
/ˈnin ˈkiˑ.ni.ɛl̡ naŋ ˈgu.ru.θɔs/
/ˈhɔn ˈɛss ˈniˑn ˈis.ta.θa/
/ˈajg.lɔs/
Voice Actor: Cody Leatzow

Aragorn's Sword, Narsil [Quenya]
Narsil essenya, macil meletya;
Telchar carnéron Návarotessë
'Narsil is my name, a mighty sword;
Telchar made me in Nogrod'
/ˈnar.sil ˈɛs.sɛ.nʲa ˈma.kil ˈmɛ.lɛ.tʲa/
/ˈtɛl.xar kar.ˈne:.rɛn ˌna:.va.rɔ.ˈtɛs.sɛ/
Voice Actor: Camden Jenkins

Aragorn's Sword Reforged, Andúril [Quenya]
Anar
Nányë Andúril i né Narsil i macil Elendilo.
Lercuvanten i móli Mordórëo.
Isil
'Sun
I am Andúril who once was Narsil, sword of Elendil.
The slaves of Mordor shall flee from me.
Moon'
/ˈa.nar/
/ˈna:.nʲɛ an.ˈdu:.ril i ˈne: ˈnar.sil i ˈma.kil ɛ.ˈlɛn.di.lo/
/ˌlɛr.ku.ˈvan.tɛn i ˈmo:.li mɔr.ˈdo:.rɛ.ɔ/
/i.sil/
Voice Actor: Camden Jenkins