In 1978 many fans of J.R.R. Tolkien's legendary epic The Lord of the Rings went to their local movie theater and paid a whole dollar to see The Lord of the Rings directed by Ralph Bakshi. It was well advertised and said that it was part one. Well, it was the only movie ever made, and we should be glad that there was no part two.
PART ONE
Quote:
Part One: The Game Attempt.

For the initial third of the movie, the filmmakers make their best attempt to tell the story. True, they get bogged down in unwieldy, half-given explanations and make it clear that exposition is not their strong suit, but at least they gamely make the attempt.
In the beginning of the movie the filmmakers try their best to stay to the story and do a pretty good job. The animations are pretty. But we don't have much back story if you havent read the books. It starts out with a live action behind a screen prologue, which is confusing and somewhat contradictory. Sauron looks more like Robin Hood or a Knight of Ni. The Music, in the opening score, sounded like kindergarten chords. Then the story starts.
My first main point: Hair. These people have absurd amounts of hair. No one I have ever seen has hair like this. Frodo, Merry and Pippin have afros. Saruman shouldn't even be able to stand up with that stuff on his head.
The people can't stand still while talking and then go outside to discuss the ring. Gandalf yanks Sam out of a bush randomly. What was Sam doing in there? Honestly!
Later it says that 17 years have passed in the Shire. Then they do some epilepsy-inducing shot of around 10 season pictures in less than 2 seconds. ?!? is all I can say. Also, through the beginning, Gandalf basically does all the talking and tells everyone everything.
...and then he goes to Aruman. Not Saruman, Aruman. The White. Wearing red robes. He's called the white for a reason. In my opinion, Saruman is a complete disaster. His name changes from Aruman to Saruman several times, and Gandalf screams an AINOMON! when trapped in Orthanc. He sounds like a Jar Jar Binks with a terribly sore thoat. (Though technically Jar Jar is Gollum jacked up on Helium, so we can say Gollum jacked up on helium with a sore throat.) Then he gives Gandalf a light show worthy of Disney World to trap him. The filmmakers do enjoy their light shows. And again, he'd die under the weight of his hair. Just disregard Saruman from the whole film. He kills it, if it wasnt dead already.
Then we find the Nazgul, or the zombies as I like to call them.
The Prancing Pony Inn scenes look terrible with the rotoscoped animations. Aragorn is nothing more than an American Indian with a sword. His voice is not at all commanding like a king's. Another thing. Why don't the men in this film wear pants? They're shorter than 1970s NBA shorts. We'll understand that more when we get to Boromir.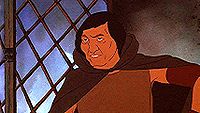 There's one shot when Frodo spots the wraiths, calls Aragorn, and Aragorn runs up. Frodo is scared like a little girl, cuddles up against Aragorn and hides in his own cloak. ?!
And now we come to the most questionable scene in the entire movie. Aragorn is leading the hobbits through Middle-Earth and proceeds to tell the very bored hobbits a story. Aragorn tells them the story of the legendary love of Beren and Luthien. Well, as Aragorn finishes with a dramatic line, Sam... well...
http://www.youtube.com/watch?v=8Rjj_DHUMrY
It's at 4:18 but the whole video's worth a look. Yea, Sam kinda looks over and gives Frodo a really gay look. And Frodo returns it. Absurd.
Then when Frodo escapes the Nazgul and another light show, he goes to Rivendell.
Pretty scenery, but then the number one filmmaking rule ever is broken.
The picture explains it.
Get me out of this film!
Quote:
Part Two: Tolkien's Greatest Hits.

Once arriving at Rivendell, the movie shifts gears; it assumes it's given enough exposition, and now drops the plot in order to start hitting the "high points" of Tolkien's work. To its credit, this means the characters actually begin to show a bit of the personality Tolkien infused them with. Unfortunately, without an adequate framework of plot to tie the scenes together and give them coherence and meaning, the movie simply becomes more confusing.
This movie covers the ever-important Council of Elrond in less than two minutes, and the characters are all very unorganized going about it. We also meet Boromir the viking and Gimli the dwarf wearing a potato sack on his head. And, being a human, Boromir has short shorts.
Now tell me please WHY Boromir has that silly helmet. It's just plain unrealistic. And dumb. Then Elrond says that, "We cannot keep it, we cannot destroy it." Then he says that we must take it to Mount Doom. WHY? He doesn't explain. And that's funny, because we never even get to Mount Doom anyway.
So the fellowship goes to Moria, it's all okay, with the first action coming at the Watcher in the Water. It's freaky. They go through the dark and scary Moria, and finally come to a terrible balrog.
I mean, really! That's horrendously terrible. It also has some huge furry feet out of the picture. It's supposed to be "wreathed in flame". Not really. Just a fuzzy-footed lion with wings.
TO BE CONTINUED