<center>

Welcome to the Writing Section HeadQuarters! This is where you will find all the information you will need for the writing portion of The Return of the Rings Event this Summer. The writing portion this year is being called "The Written Word, because we will be working with literature and writing! I will be updating this page almost every day to get you up-to-date with the latest information!
__________________________________________________________________________________________________________________________
</center>
Summer Reading 2008
During the next 3 months, we will be reading the entire trilogy starting with the Fellowship of the Ring! Follow the below calendar to know when each chapter is due and when the discussion dates are. During reading days, general discussion will be available in the Miscellaneous Book Discussion Board. However, after part of the book ends we will be having Large Group Discussion for 1 day!
Reading Calendar
Fellowship of the Ring
[s]June 10-June 19: Book 1, Chapters 1-10
June 20: Book 1, Chapters 1-10 Discussion
June 21-June 30: Book 2, Chapters 1-10
July 1: Book 2, Chapters 1-10 Discussion
July 2: DAY OFF
The Two Towers
July 3-13: Book 3, Chapters 1-11
July 14: Book 3, Chapters 1-11 Discussion
July 15-24: Book 4, Chapters 1-10
July 25: Book 4, Chapters 1-10 Discussion
July 26: DAY OFF[/s]
The Return of the King
July 27-August 5: Book 5, Chapters 1-10
August 6: Book 5, Chapters 1-10 Discussion
August 7-15: Book 6, Chapters 1-9
August 16: Book 6, Chapters 1-9 Discussion
During every book, i will be posting "Essay Questions" on this page on the First Post (thats this post). The Collective Questions, About 10 per week, are due to me on the day of Discussion for that particular book. After that i will not be accepting these answers. Participating in this will get you Participation Points, which i will talk about later. Besides, the member with the most detailed answers will also win a special prize. It could be a banner, bragging rights, a sweet Award, or even Participation Points! So make sure to do them!!!
Writing 2008
This summer, as in the title "The Written Word", we are going to be focusing on not just the movies, and not even the writings by JRR Tolkien. We want to be able to create our own memories and our own worlds! Thats why we have Created a writing section for this years events! There are going to be a lot of writing contests this year, as writing improves so many things in our lives, and it is so important!!! Here are the Various Activities involved in the Writing section!
<b>
Fan Fiction Contests
</b>: Each Week, a new 'topic' for the fan fiction contests will be posted here on this page! During the week, write up material for the fan fiction contest! I will have due dates, so don't worry about not knowing! Then, i will try to finagle a few more members to help me judge. The member with the best fan fiction of the week will be labeled, "The Fan-Fictioner of the Week", receive bonus participation points, and also receive a Award to prove that they were the winner!
<b>
Completing the Stories
</b>: We cannot Have a writing section without one of these can we! You will be able to find these posts in the Fan-fiction/Poetry section of the forum! Pretty much, the rules are simple, just add as much as you like to a continuous story that will never end. We will create multiple story threads so that the topic isn't the same all the time. Some will be Lotr Related, some may not! Check the links below for information on that!
<b>
Poetry Night 2008
</b>: What is Lord of the Rings without a bit of poetry. Tolkien Did it, why cant we! On <u>July 26 2008</u> we will be having the A&U Poetry Night! Here is what we need of you! Write some poetry! Write lots of it! If you need any help, just ask! There are 2 ways that you can do this! Enter the Poetry Night Contest, where we will judge your poetry for prizes, or just wait till that night! Only entering will get you participation points! Sorry this is confusing, but....oops!
Participation Points
This year for the Writing/Reading Section of the Return of the Rings, we are having what's called, "Participation Points". So what is this exactly? Well, if you participate in activities that have a label that reads, "Participation Points Eligible", that means you can gain Participation Points (or for now on going to be called Pp. These can be gained by participating in contests, submissions, book discussions, and many more things that are on the way! Some activities may give you more Pp's than others, so keep a watchful eye! If you are the winner of a judged event, you will be rewarded many Pp's! At the end of this years Return of the Rings Events on August 17, the member with the most points will be labeled, "The 2008 Return of the Rings Written Word Champion". You will get an award, i might even talk with the mods on a few cooler awards (but shh...i haven't asked yet, so don't get your hopes up).
The pretty much sums everything up i think! If i add something, i will let you all know! The Contacts are below for PMing if you have any questions
<b>If you Have Any Questions....PM:</b>
<a href="http://www.arwen-undomiel.com/forum/privmsg.php?mode=post&u=1782">Telpeath</a>
<a href="http://www.arwen-undomiel.com/forum/privmsg.php?mode=post&u=24">PirateoftheRings</a>
<center>________________________________________________________________________________________________________________</center>
Links, Current Standings, News, etc
<b>Links</b>
Discussion Threads:
General Discussion Thread for the Books
Fellowship: Book 2 Discussion
Fan-Fiction Threads:
Complete the Story Number 1
Poetry Night Threads:
Poetry Night Submission Thread
<b>Current Standings</b>
Pandora
--28 Pp
Smeagollum
-25 Pp
Nurrantiel Marshiara
-10 Pp
Sairahiniel
-10 Pp
Turwaithiel Swann
-5 Pp
Alright So as of Tuesday June 1st 2008 at 12:41p. Pandora is in the Lead with 28 Points. Good Job! This is a close race, who will win??
<b>News</b>
[x] I have updated pretty much everything. Awards are up, standings are updated, and threads are looking good! Keep participating everyone!
<center>_______________________________________________________________________________________________________</center>
Fan Fiction Contest Round 2 (Due in my PM Box Thurs. July 29th)
This is the Second Contest for Fan-Fictions! The theme for this round is going to be:
<center><b>Rewrite the Ending of the Trilogy
*Participation Points Eligible*</b></center>
Description:
In this particular Fan-Fiction, you are asked to write a new ending to the trilogy. This could be anything: having Sauron win, having Frodo die, have the ring never destroyed, anything.
Rules: *new*
--Abide to Forum Rules
--Must be at least 200 words (but no more than 800 words please)
--------------if you go over, you may be asked to edit or you may be disqualified (sorry, but i really don't want to read novels)
--Have Fun
Currently

0

Participants!
center>_______________________________________________________________________________________________________</center>
Fan Fiction Contest Round 1 Winners and Submissions!
Well, here are the winners of the first Fan Fiction Contest. Below each award is the submission they sent! Thank you all for participating in this event. Make sure to keep participating to receive the grand prize at the end of the events. So the winners are:
<center>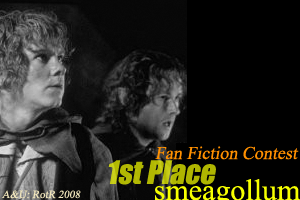 Quote:
Rivendell, a city of elves, was quite the spectacle. Merry and Pippin had both circled the city twice. The first time was before Frodo woke up, and it consisted of worry, despair, and the occasional stomach growl from their extreme case of worry and despair. This second time was after Frodo had woken up and the council had begun, and it was from their extreme case of boredom.

"What do you think they are taking about?" Merry questioned as they both repeated a moment of déjà vu after passing by the council room for the second time.

Pippin simply shrugged, his typical gesture, and was about to suggest finding out when he noticed Samwise Gamgee in the brush. "What are you doing here?" he asked, not controlling the level of his voice.

"Shh… be quiet," Sam hushed Pippin and proceeded to continue peeking through the bushes.

"Very well then," Merry agreed with Sam, grabbing Pippin's shoulder, "Let's go and find something to do. We can come back when it is over."

Reluctantly, Pippin obeyed, and they both strolled towards the interior of Rivendell. Past about a dozen elves, they had found what their stomachs had been calling for: a bushel of apples laid out symmetrically on a table. Grabbing two each, both Merry and Pippin had one for each hand and a mental note of where they would be able to find more.

Figuring the council will last a good while more, they both continued to chat, eat their apples, and poke around the interior of Rivendell. It wasn't until they ran into a courier full of elven instruments that they were both delighted to scarf down the rest of their apples and run in, grabbing hold of the lowest hanging weapon.

"You think we will ever be able to use these?" Pippin questioned, trying desperately to hold the sword up, but failing from the enormous weight attached to the object, comparatively.

"I surely hope so," Merry responding, grabbing a knife of his own that was much smaller after seeing Pippin's struggle with the sword, "You know what we should do?"

"What?"

Merry grinned and eyed the full load of weapons once again. "We should take some of these and have a fight out in an open area."

Pippin smiled, delighted at the thought, and quickly agreed by tossing his sword to the side and grabbing hold of a knife that, like Merry's, was much lighter. They both soon ran off to the outskirts, but still inside of the city, specifically to the place where the four hobbits met when Frodo awoke, and they positioned themselves for their own miniature, un-lifelike swordfight.

As the hobbits ran to their designated spot, there was an elf by the name of Floren. He was the rank below commander of the Rivendell army. He had traveled into the weapon room, as obligated to each day, and he had noticed the sword laying upon the ground. Confused, he picked it up and placed it back into the spot. He had taken this situation to be that of gravity (not that he would call it that, of course) and accident. It was not until the apple cores that he figured it to be more than common marks. His elven ears immediately went into overdrive as they took in every sound and his eyes followed as they took in the mistakes of the room. Two knives. Those were what were missing from the room.

Turning around, Floren followed his sense of hearing back to Merry and Pippin. He had arrived at the specific location a moment after Merry and Pippin noticed. In essence, all he noticed were the two knives laying on the ground and two Halflings running away from him.

Merry and Pippin panted heavily as they ran away from the elf. They had both figured we was their to take back the swords and get them both in trouble for thievery with the head elf, Elrond, or, worse, Gandalf. After a good minute of running (two minutes for any normal sized person), they both stopped to catch their breaths, but continued immediately after when they say the same elf following behind them.

"Council room," Merry shouted at Pippin, grabbing his arm and taking off. They both arrived there soon after, with Floren running a fair distance behind, but still able to see them (which really isn't fair to say from elves being able to see practically miles in the distance).

Upon reaching the council room, Merry and Pippin saw Sam in the bushes on the other side. "We should be on that side," Pippin pointed out to Merry.

"I know," Merry bit his lip and looked once again at the following elf while hearing Sam shout something about joining. He quickly jerked his head to the center of the council room and whispered to Pippin, "I have an idea." It was immediately after that Merry dashed into the center of the council room shouted, "We're coming to!" with Pippin close behind, and Floren stopping a short distance, smiling and laughing at the sure simplicity of the plan.
The Judge Said:
Smeagollum's was fairly good sized and had direction and purpose. As well, it was very well developed and had believability. However, Floren did seem to have a supernatural quality about him.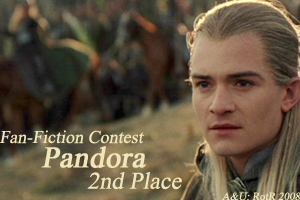 Quote:
Legolas stood beside Gimli his head tilted up to the tall trees of Mirkwood. He was finally home, and beside him was his unlikely friend. Not even Legolas would have believed that he would have befriended a Dwarf, but here they were, side by side as they walked through the first set of trees that was the borders of Mirkwood. They had just journeyed here after visiting the Mines of Moria. Gimli had chosen to see the mines one last time, looking at the glory of the mithril and the jewels the deep caverns consisted of. The Elven Prince had joined his friend and found a new appreciation for the mines, now it was his turn to show Gimli something that he treasured, and that was his home.

"Are there not Spiders, Prince Legolas?" Gimli questioned as he gripped his axe a bit tighter.

"Nay, not on this side of the woods, they rest on our eastern borders, but nowadays there is hardly any left. My father takes great care on keeping these woods safe, you are in no harm..." Legolas smiled as his eyes did not leave the canopy of the trees, his body singing, knowing soon he would be seeing his father again.
The Judge Said:
Pandora's was very short and sweet and to the point. It was a short scene yet explained Legolas's joy after returning to Mirkwood and his unlikely friend. I would love for the story to continue and be able to read more. There is potential for it to become a really great story.
</center>
Thanks you two for participating, and lets give a special thanks to our wonderful judge! I cannot say the name (confidentiality)! But it was a good thing we had her on board!
Make sure to participate in the other activities! Loves you ALL!
<center>________________________________________________________________________________________________________________________________________</center>
Summer Reading 2008
<b>Essay Questions (Participation Points Eligible)</b>
Well, the last few were a bomb! How about we have some people participate eh? I will add these latter this week!
<i>The Two Towers: Book 1</i>
(NONE CURRENTLY)
Submit these to my PM Box! Subject= Essay Questions: Book 1